Presse - Crestar Leader 06-1991
ARC Consulting / Öffentlichkeitsarbeit
Pressedienst und Info-Galerie




 June 1991 - WB - Crestar Leader

Success story
Teamwork lands retail, corporate accounts
Crestar's ability to tailor an attractive financial package to meet both retail and commercial needs secured a large new business relationship with Multiton MIC, a German manufacturer of hand pallet trucks and other small vehicles with $10 million in sales last year.
The success story began when Jim Spencer, Capital Region Business Development manager, learned of the firms impending move to Virginia and arranged a meeting with Multiton representatives to explain Crestar's services.
The job of preparing for that meeting was assigned to Bill Beyer of International and Robin Brewster, manager of the East Henrico office located near the corporation's new headquarters. By pooling resources, they secured 70 personal account relationships, while on the corporate side, Crestar handles the company's payroll, general accounting, automated investment, cash management, international, wire transfer, foreign exchange and direct deposit services.
"We always talk about teamwork, and here's an example of how the retail and corporate banking groups can bring in new business," says Bill.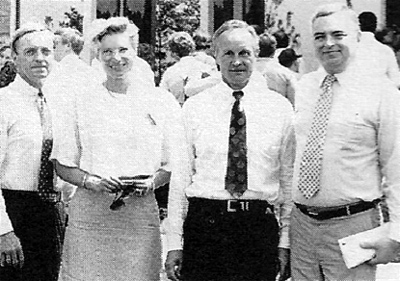 New Business - Attending Multiton MIC Corporation's grand opening celebration are Jerry Giles of International, Astrid Rapp and Eckard Kottkamp of Multiton/Jungheinrich, and Bill Beyer, also of International.
<< Übersicht Artikel
<< Overview articles
Wir sind nicht nur verantwortlich für das, was wir tun, sondern auch für das, was wir nicht tun.

Voltaire